9 Traders Reveal The Truth About What It Takes
To Be A Successful Trader
Yes!

 I'm ready to learn Expert Tips to shorten my learning curve, and become a more profitable and successful trader!
I Understand That When I Act Now, I get a Hard Copy of Amazon's 5-Star Rated Book What It Takes: The Secrets of Becoming a Successful Trader which features:
A Priceless Collection of Stories, Experiences & Anecdotes from some of the world's Greatest Traders
Trading Insights from market Veterans who have combined lifetime experience of over 100 years and combined earnings of over $100 Million
You will also Learn:
How to avoid the biggest mistakes that even the Pros make
How to transition from struggling trader to profitable one
How to know when to trade and when to STAY AWAY
How to develop inner strength and confidence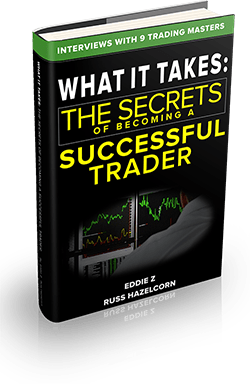 In This Book, 9 Trading Experts Reveal Their Secrets:
EDDIE Z will tell you the 5 KEY THINGS you must have or understand to succeed at trading.
ROBERTO will explain why technical analysis is EVERYTHING.
DOC will warn you away from this DANGEROUS but common response to failure.
NIGEL reveals when to trade and when to STAY AWAY.
TODD shares what you must know about YOUR OWN SITUATION before you ever begin trading.
MARKUS tells you how long it will take to figure out what strategies YOU should use.
NORMAN shares his secrets for developing the inner strength to trade with CONFIDENCE.
HOWARD reveals the temptation you MUST avoid in order to take advantage of new opportunities.
Don't just take my word for it… take a look at these reader reviews.

Excellent book for those who are not only fascinated by financial markets but also love reading about the experiences of
others that have successfully navigated them. In a fresh approach to the trader interview genre, "What It Takes" makes a
conscious effort to focus on "real life" traders who manage to consistently pull money out of the markets.
While stories of mega returns from superstars like William J. O'Neil or Ed Seykota make for entertaining reading, it can be
difficult at times to relate to their experiences. "What It Takes" offers interviews with traders who started off in regular 9-5's
just like you or me. They went through similar experiences that many of us have:
Attending trading seminars
Purchasing course work
Jumping from one "holy grail" indicator to the next
Joining investment clubs
Losing all their money
Seeking out mentors
Psychological hang ups
Then finally having a break-through moment
What I find most unique about "What It Takes" is that it doesn't focus on Billion-Dollar-Bets or being the first one to
analyze trends on a punch card. "What It Takes" focuses on the core issues that traders must overcome (in our current
day) in order change from being a consistent loser to a consistent winner.
" This book is as entertaining as it is educational. Eddie Z reached out to real pros and asked them what it takes to make it as a successful trader and a lot of the answers he got were unexpected. There are some really inspiring stories here for any one who interested in trading stocks, commodity futures or options. After reading this book I was able to apply some of the things I learned and I think they are already making a huge difference. "

I have read the previous book in Eddie's interview series and I was again impressed by how many candid answers he
manages to get from traders. If you are looking for insight from the minds and occasional trade inspired maladies of
successful traders this is a must read. Even if you don't trade full time, this book will get you hooked in making it hard to put down.